(for best results use Netscape & set your screen to at least 800x600 resolution)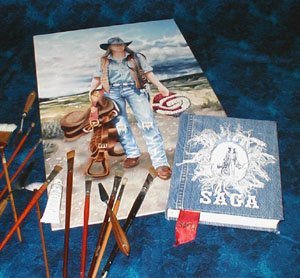 Original Works by
Brackett

---
thorny norny


---
About "Thorny Norny"
Thorny Norny is a rugged, strong willed, free spirited woman who carves her own path through life and takes it as it comes. She does everything solo. She owns nothing , she wants for nothing. She's as hard as nails, yet as gentle as a babies bottom. The road is her companion and the wind is her compass. The thorny part of the name relates to the determined and capable side of this flower on the wind. The hidden but ever present danger she is to the hearts of men that would posses her.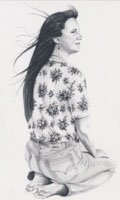 About the model - Laurie
Laurie brought the name to me and I created the character.
When I first met my model Laurie in 94, I knew there was something special about her right away. Though it wasnt until a few days later when we had engaged in conversation that I had noticed an intriguing difference. When she spoke her face became fully animated with expression in a way Ive never seen before. Her multi faceted facial characteristics were unique to her. I was totally amazed at the diversity of her facial movement in speech and smile. Being a portrait artist most of my life, I knew I had to try and reproduce her special qualities if it were at all possible. I had recognized that Laurie was a real find for an artist that paints people. I have painted many people and especially women, but this woman was one in a million. Her face is full of interesting complexities that could take the better part of a life time to understand and reproduce in exacting detail.
Though I like the pictures we created, Ive yet to capture the essence of this unique individual. And Im not sure whether I ever could or not, but I learned a lot in the trying.